Share this Post
FERS Annuity COLA
Inflation is a hot topic this summer which has many federal employees wondering how it will impact them in retirement. Federal employees are very fortunate to get a cost-of-living adjustment (COLA) in retirement, however, that COLA may not keep up with inflation.
How is the FERS COLA calculated?
The FERS annuity COLA is based on the CPI-W. Here is a table that shows what COLA federal employees receive.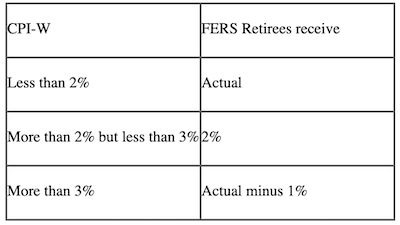 One important note from the table above is that if the CPI-W is higher than 2% then your FERS annuity will not keep up with inflation, and if it continues to be above 2% then your annuity can lag inflation significantly over time. Some like to call this the Diet COLA.

Who receives the COLA?
FERS employees that have reached age 62 or older in retirement will start to receive the COLA. Regular FERS employees retiring prior to the age of 62 will not receive a cost-of-living adjustment until they turn 62.
Special Category Employees (SCE) such as law enforcement officers and air traffic controllers start receiving their FERS annuity immediately upon retirement. Some SCEs may be able to retire prior to the age of 50 if they have 25 years of service in and start receive the COLA immediately.
When is the COLA announced?
The COLA is typically announced in October for the next year. Retirees that qualify and receive a FERS annuity in December will receive some portion of the COLA in January. If you were retired for six months of 2021 then you will typically receive 50% of the cola for 2022.
What about the Special Retirement Supplement?
The SRS, also referred to as the FERS Supplement, does not receive any adjustments regardless of the employee classification.
Brad Bobb, CFP® is the owner of Bobb Financial Inc, and an expert in retirement planning for federal employees.